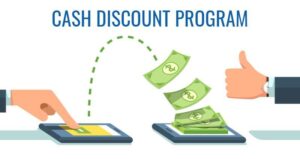 Are you looking for the best cash discount program out there? Finding a cash discount program that rewards your customers and provides an easy-to-use platform for merchants can be no small feat.
But with the proper guidance, you can get the ideal solution for your business. So, what makes a good cash discount program? Here are the key features to consider when selecting a cash discount program that will benefit your business. 
We will also look at the best cash discount program for different kinds of businesses so that you can get the best value for your money.
Features Of Cash Discount Program:
A cash discount program should be easy to set up and use, so your customers can quickly access discounts without needing technical skills or lengthy training sessions. As a bonus, look for a program with online payment options like credit cards and PayPal so customers have options other than cash.
The next feature to consider is flexibility. You should be able to customize your cash discount program to fit your business's unique needs. Look for a program that allows you to adjust the discount percentages or offer discounts on specific items or services. You can tailor it to fit your customers' exact needs.
Thirdly, consider the cost. Look for a cash discount program that has no setup or monthly fees. That way, you can save money and make sure the program makes financial sense for your business.
Finally, look for a program with comprehensive customer service and technical support. That way, you can get help quickly if you encounter an issue or have questions about the program.
Now that you've seen what to consider when selecting a cash discount program let's look at the best program for different businesses.
Best Cash Discount Program-Xccept
Businesses need to be flexible regarding payment options, which is why Xccept offers a zero-fees program as a great way to save money without sacrificing convenience. 
With Xccept, you can accept credit and debit cards without worrying about fees eating away at your profits. And it's great for your customers, too – you can offer cash discounts to sweeten the deal and make them more likely to choose you.
Xccept never takes a percentage of your sales, so you keep all your profits. It's easy to start with Xccept – just sign up and accept credit and debit cards. There are no terminal fees, processing fees, and PCI compliance costs – it's all free! 
With Xccept, you can keep more of your money and pass on those savings to your customers. It's just that simple. So if you want to save money on credit card processing fees, Xccept is the way to go. 
Final Words:
Finding the right cash discount program can be a great way to maximize your savings and reduce costs. With these best cash discount programs, you can get the maximum benefit from every purchase and enjoy increased protection on your purchases. At Xccept, we strive to provide top-notch service, excellent customer support, and unbeatable discounts. Get started today and start saving more money!